Do you love those Thai Chicken Satay's with Peanut Dipping Sauce?  They can get pricey in the restaurants and making them at home is a bit tedious when threading the meat on skewers, then turning them and hoping they don't fall through the grates into the coals or bottom of the grill.
I have the perfect solution….little bites of Thai infused flavored chicken that are cooked on the grill to achieve a fabulous smokey flavor.  Then served with the easiest Peanut Sauce to make that you'll want to whip it up for many recipes!  
What's ever better is how you can cook it on the grilling mats which takes away all that work of skewers that burn, or meat that falls through the grates of the grill or icky grills!  I'll tell you all about those in the recipe.


Fabulous BBQ Chicken Satay Bites
Chicken Satay
Ingredients:
2 – 3 lbs. boneless, skinless chicken thighs (these stay more tender) or breasts; trimmed of fat, then cut into 1 inch cubes
2 Tbl. reduced-sodium soy sauce
2 Tbl. honey
1/3 cup lemon juice
2 Tbl. freshly grated ginger root
1 Tbl. garlic, minced
Peanut Dipping Sauce 
Ingredients:
1/2 cup chicken broth, can use light
3 Tbl. peanut butter, can use low fat/light
3 Tbl. grape jelly (I know it sounds odd, but it's really a key component here, so don't skip it!)
1 Tbl. soy sauce, reduced sodium works really well
1 tsp. grated lemon zest
1 tsp. sesame oil
1/2 tsp. ground coriander, unusual ingredient but adds flavor
1/4 tsp. crushed red pepper flakes
Directions:
To begin you need to grate the ginger root.  Choose a nice chunk ( you can break off a piece at the produce dept, but get some that is not wrinkled, soft, moldy or dry.  You want it plump, firm to the touch and about the size of your two fingers for this recipe. 
Use a vegetable peeler  to take off the outer layer, or a knife.
Using a small hole grater, grate so that you have 2 Tablespoons of ginger root.
Now, to make the chicken satay, in a large zip-lock bag, put in the soy sauce, honey, lemon juice, grated fresh ginger root and garlic.  Mix up well.
Cut up the chicken into cubes that are about 1 inch or so. Trimming off all the excess fat, gristle and ' icky stuff'.
Next, add in the cubed chicken and toss to coat.  Place in the refrigerator for 2-10 hours.
Meanwhile, to prepare the dipping sauce; in a blender combine the chicken broth, peanut butter, grape jelly, soy sauce, lemon zest, sesame oil, coriander and pepper flakes.
Blend for a couple of minutes to combine well.
This can be done 1-2 days in advance and put in the refrigerators so the flavors can marry.
When ready to cook the chicken, prepare the grill.
***While the charcoal is getting ready as it takes a few minutes until they are ready to cook on, heat the prepared dipping sauce, or make it from the beginning, which is fine too
Transfer the dipping sauce into a small saucepan. 
Heat the sauce over medium heat until mixture is bubbly and thickened a little.  
It will thicken more as it cools. 
***As I mentioned, heat the charcoal according to directions on the bag.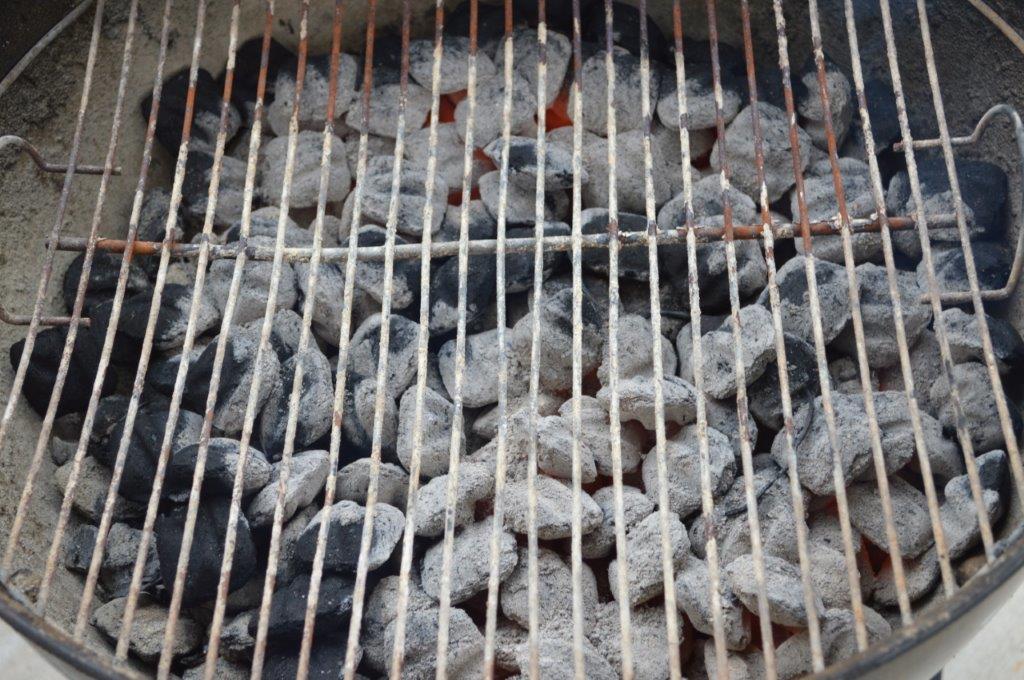 When the coals are ready, place the Grilling BBQ Grill Mat  right on the hot grate.  I know crazy right!?!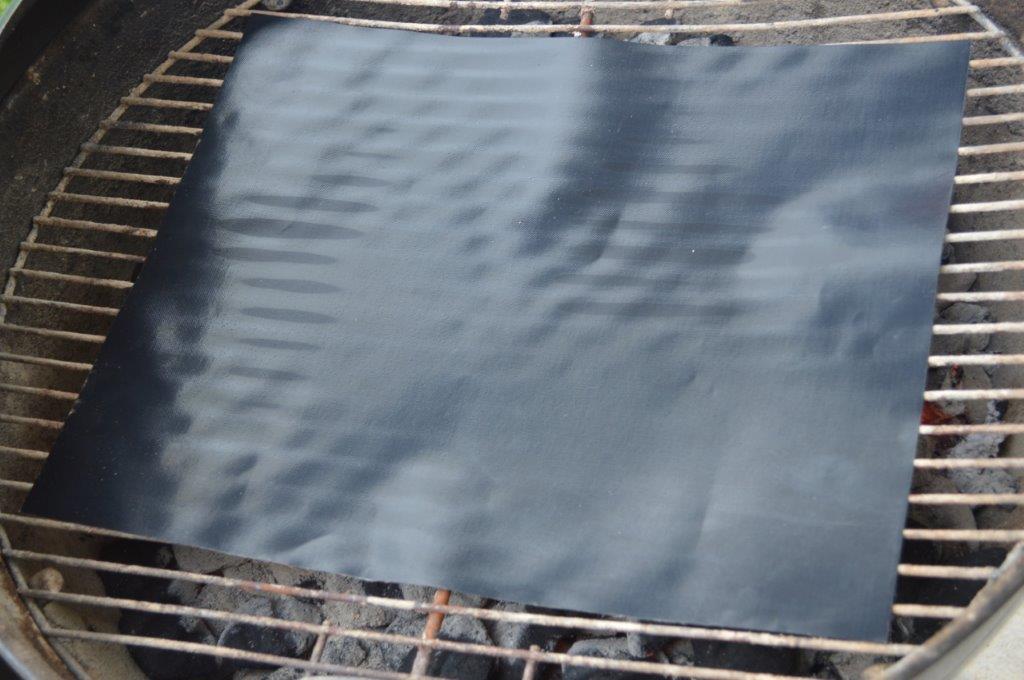 Now, carefully, with your long tongs so you don't get burned, place the marinated chicken satay right on the Grilling BBQ Grill Mat  with a little bit of the marinade; adding more as you need while it cooks. 
Do you know what tongs I like to use? I found these super long BBQ and grilling tools that are perfect! They protect you from getting burned since you are back from the heat. You can find them by clicking HERE.
With your long tongs turn the meat frequently until the chicken is cooked thoroughly.  
It's very important that chicken is cooked all the way through.  So, when the internal temperature reaches 170 degrees, the chicken is ready to take off the heat and place on a plate.  I found this amazing BBQ and grilling meat thermometer that takes out the guess work. You can check it out HERE 
TIP:  At this point, I personally used the long tongs and took the Grill Mat OFF the grill and placed it on a rock, or another place to cool.  
Serve the chicken bite-sized satay with the peanut dipping sauce!
Carrie Groneman's recipe, copyright Carrie Groneman, A Mother's Shadow, 2016
I'd like to brag about this Grill Mat if you have a minute
Look at how icky this mat was after cooking the chicken on it.  I thought NO way is this stuff going to come off.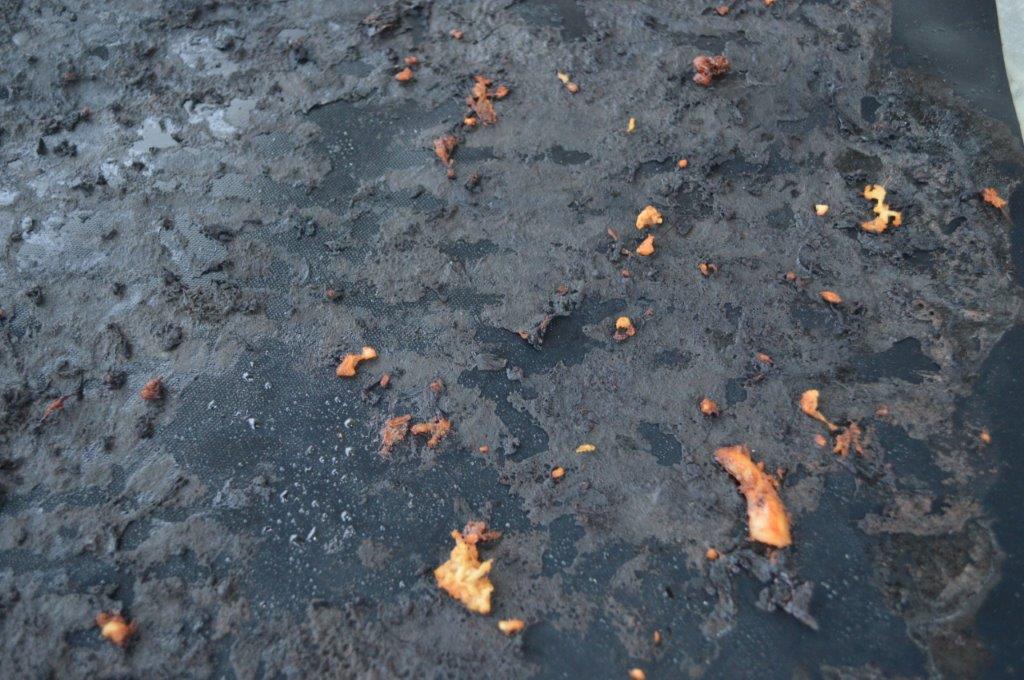 I put it in the sink, gave a little squirt with the dish soap.  In a few spots I did have to use a bit of elbow grease when I cooked with things with sugar, like BBQ sauce, but mostly just a little scrubby- scrub-scrub and …….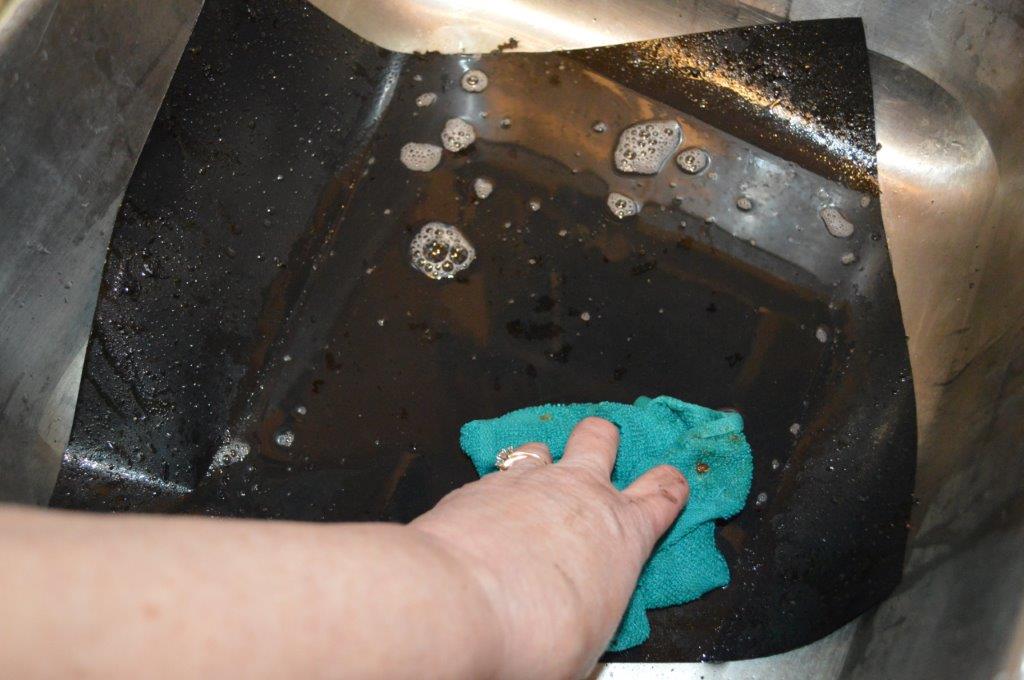 Gave it a rinse
SHIZAM  – CLEAN!!!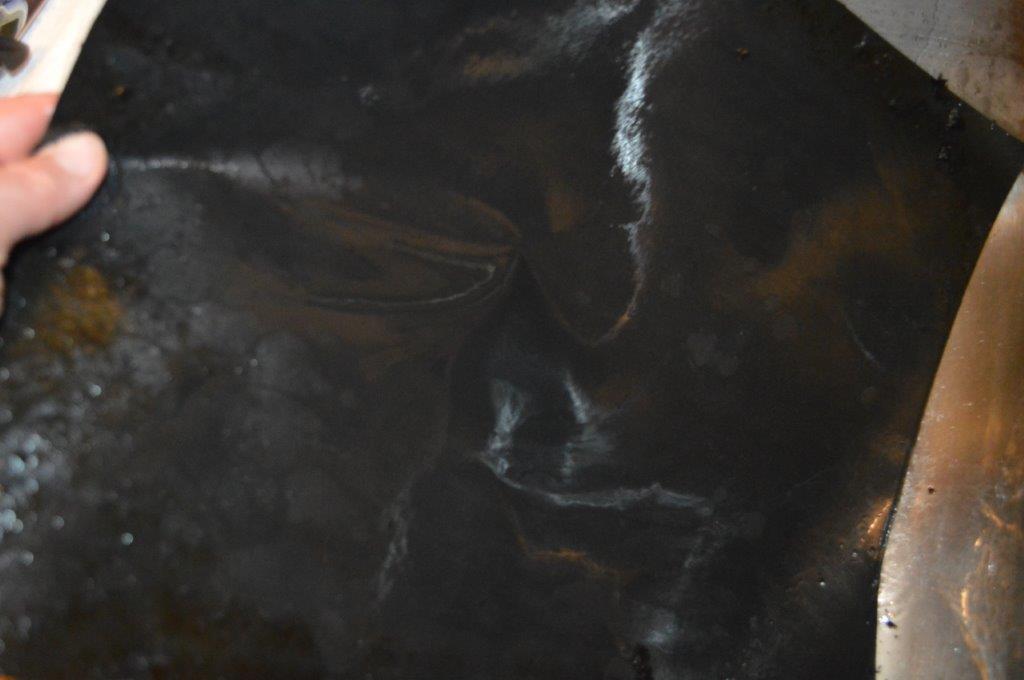 These Grilling BBQ Grill Mats are remarkable!
You can put them in the dishwasher and of course they are reusable.  
Ratings are fabulous and it is FDA Approved and PFOA Fre

e
Here are a few more ideas of how to use these AMAZING mats I thought of:
Pizza

Grilled fruit

Fajitas

Pancakes

Anything, all you have to do is just control the heat of the charcoal
For this delectable meal, I put down  bit of flavored olive oil infused with herbs on the mat, along with the fish, and it was sssooo good; just remember to watch out that the oil doesn't get by the flames.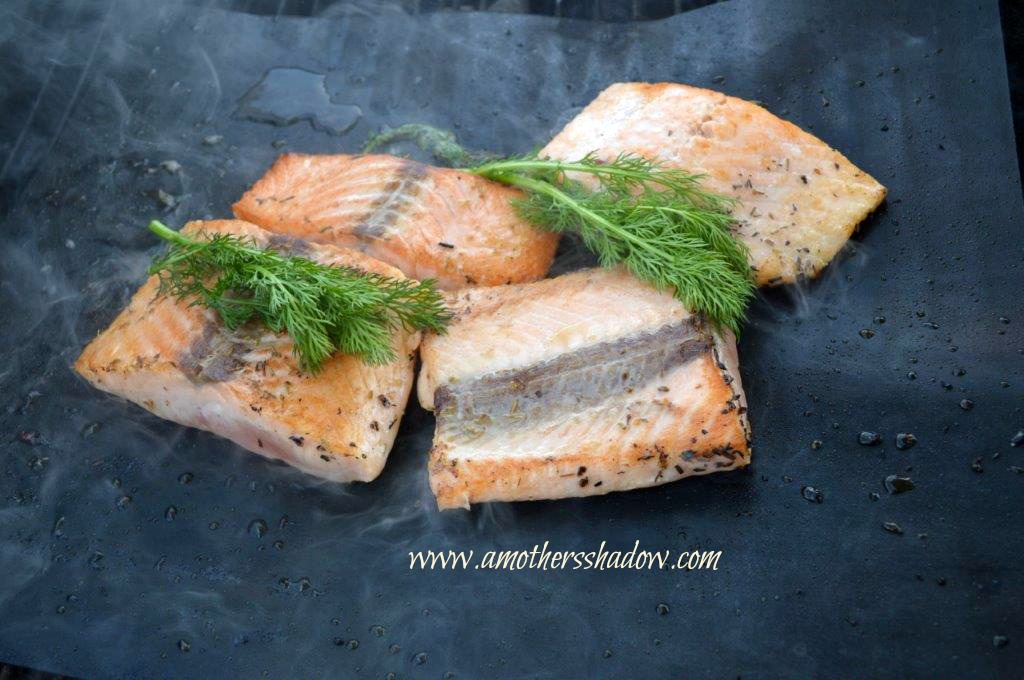 And DESSERT of course – just watch the heat, it has to be like the oven temperature remember and use the lid to cook these. They were a bit tricky:)
Recognize a blessing and be a blessing today.