Print This Post
Oohhh I have a homemade sauce for you that's super easy to put together, and it's just the right balance of sweet and spicy. A little sticky but not too gooey- it's just right!
BEST EVER BBQ GRILLED CHICKEN DRUMSTICKS
Ingredients:
3-5 pounds chicken drumsticks, or your choice of meat
Lemon Pepper Seasoning
Sauce Ingredients:
1/2 cup brown sugar
1 1/2 cups ketchup
1/4 cup red wine vinegar
2 Tablespoons Worcestershire sauce
1 Tablespoons balsamic vinegar
2 Tablespoons garlic, minced
2 Tablespoons dry mustard powder
1 teaspoon paprika
1/4 teaspoon salt
1 teaspoon Montreal Steak seasoning
1/2 teaspoon onion powder
2 teaspoon liquid smoke
dash to 1/4 teaspoon cayenne pepper; depending on how much kick you desire
GRILLING BBQ GRILL MATS
Directions:
Combine all of the barbecue sauce ingredients in a pan: brown sugar, ketchup, red wine vinegar, Worcestershire sauce, balsamic vinegar, garlic, mustard, paprika, salt, Montreal seasoning, onion powder, liquid smoke and cayenne.

Bring to a simmer over medium heat; cook, stirring constantly.
Cook for 5 – 10 minutes.

You want it nice and thick like this.
Cool and refrigerate, or use immediately.
At this point you could freeze it to take on a camping trip, or refrigerate it and take it on a picnic. It will be very thick to use; just stir it well to warm it up.
When you are ready to cook your chicken drumsticks, or whatever portion of the chicken, or cut of meat, you are using, and heat the charcoal according to directions on the bag.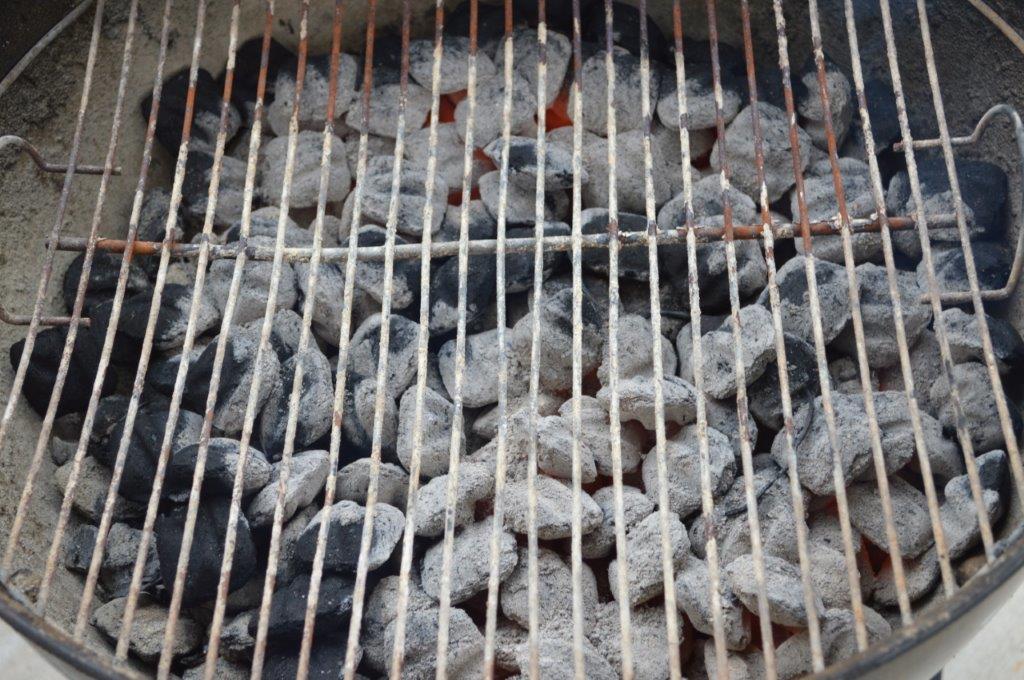 When the coals are ready, place the Grilling BBQ Grill Mat right on the hot grate. I know crazy right!?!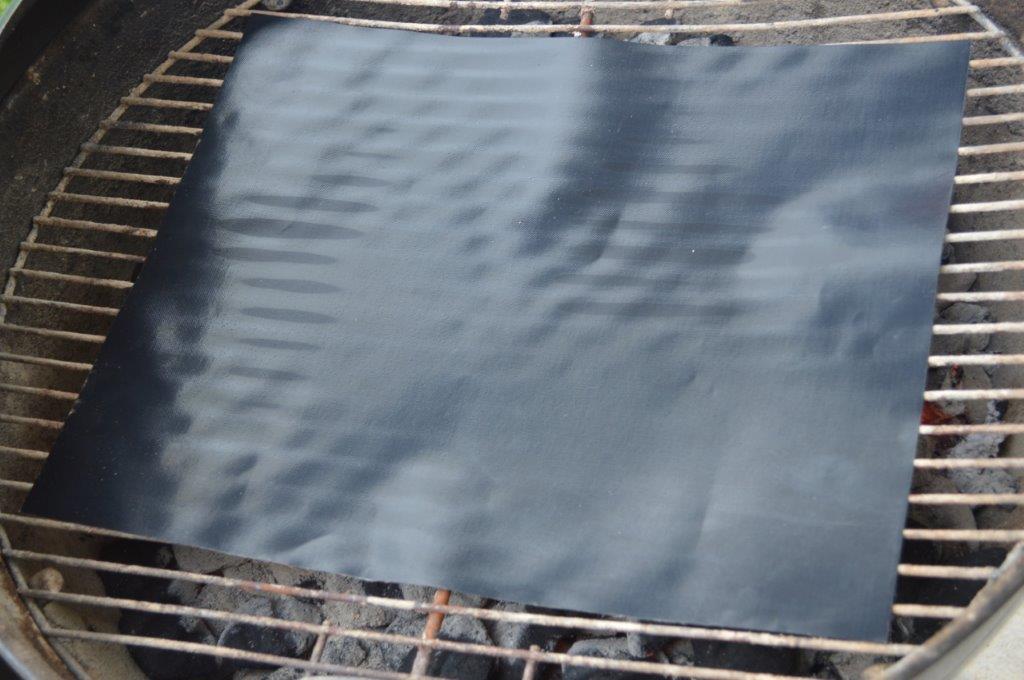 Now, carefully, with your tongs, place the chicken drumsticks on the Grilling BBQ Grill Mat
Do you know what tongs I like to use? I found these super long BBQ and grilling tools that are perfect! They protect you from getting burned since you are back from the heat. You can find them by clicking HERE.
(Safety tip here: when you chicken is cooked, through to the point that you are basting with BBQ sauce/taking it off the grill, make sure you have cleaned your tongs off, so that you are not contaminating your cooked chicken with raw chicken that may be left there from this step. That is how people get really sick.)
Sprinkle lightly with Lemon Pepper Seasoning.

Cook on one side of the meat, until lightly browned and cooked part way through.
Turn over and sprinkle with Lemon Pepper Seasoning and cook on the other side.
It's very important that chicken is cooked all the way through; meaning we want the internal temperature to reach 170 degrees to be done. Check out this Meat Thermometer HERE
BUT ten minutes before it is finished, liberally baste* on the homemade barbecue sauce. I'll share with you a tip about basting. See I hate getting burned by the smoke and heat when basting with the sauce, and I found I found the BEST basting tool for this purpose because it is lloonnggg, a cinch to clean afterward and you'll find it easy-peasy HERE
Now baste that chicken liberally, I mean give it a good slathering! This is goood stuff!!!
Place the lid to the bbq over the basted chicken for five minutes. This bakes on the sauce to give a nice coating. If you don't have a lid, you can use foil, or disregard this step and it's just fine.

*Chicken safety – spoon sauce into a separate bowl or container that you are going to use to brush onto the chicken. Discard any unused sauce* from that bowl. It will contaminate the rest of the sauce if you mix the 'clean' sauce that has not been used to brush on meat with the sauce that has and can spoil the sauce; even possibly making you very ill.
TIP: Just like on the regular grill, you will have flare ups IF you get the sauce near the flame, so use caution to keep the sauce on the chicken!
Make sure to turn the drumsticks and baste liberally so that BOTH sides have that yummy sauce ALL over; repeat the process.
When the internal temperature reaches 170 degrees* take the chicken off the Grilling BBQ Grill Mat and place on a plate.
TIP: At this point, I personally used the long tongs and took the mat OFF the grill and placed it on a rock, or another place to cool.
Allow the chicken to sit/rest for five minutes. This step is really important. Why? Because it allows the juices to absorb back into the meat cells so the meat is juicy and tender! Cover the chicken with foil to keep warm during this 'resting period'.
Serve extra sauce on the side, as long as you have not used it to baste the chicken with it*. ENJOY the chicken!!!
Now for the mats…..
Look at how icky this mat was after cooking on it. I thought NO way is this stuff going to come off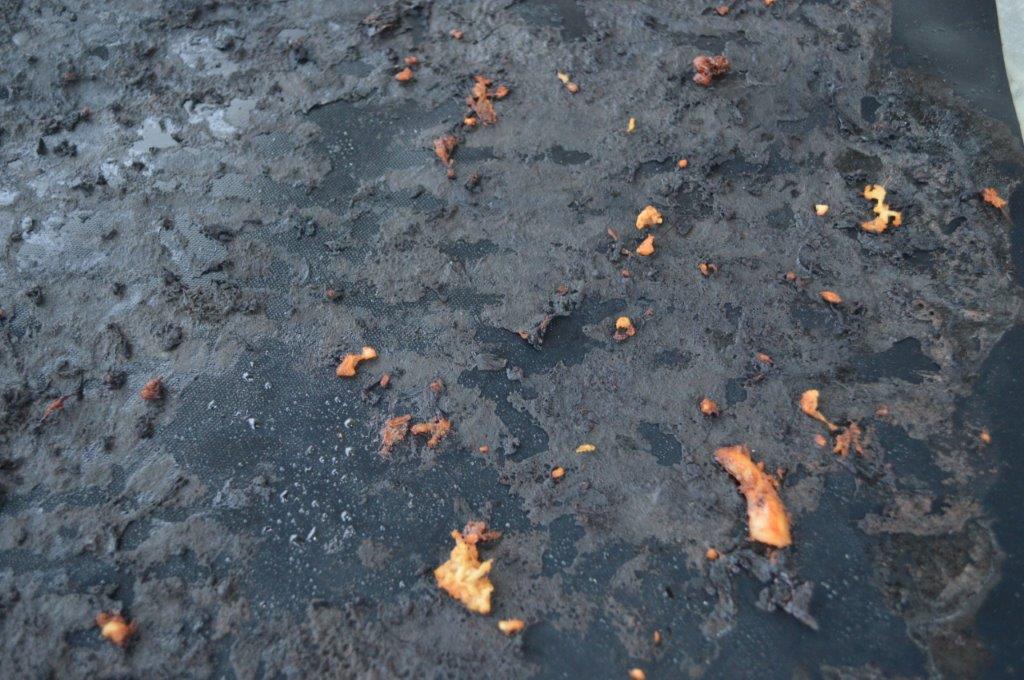 I put it in the sink, gave a little squirt with the dish soap. In a few spots I did have to use a bit of elbow grease when I cooked with things with sugar, like this BBQ sauce, but mostly just a little scrubby- scrub-scrub and …….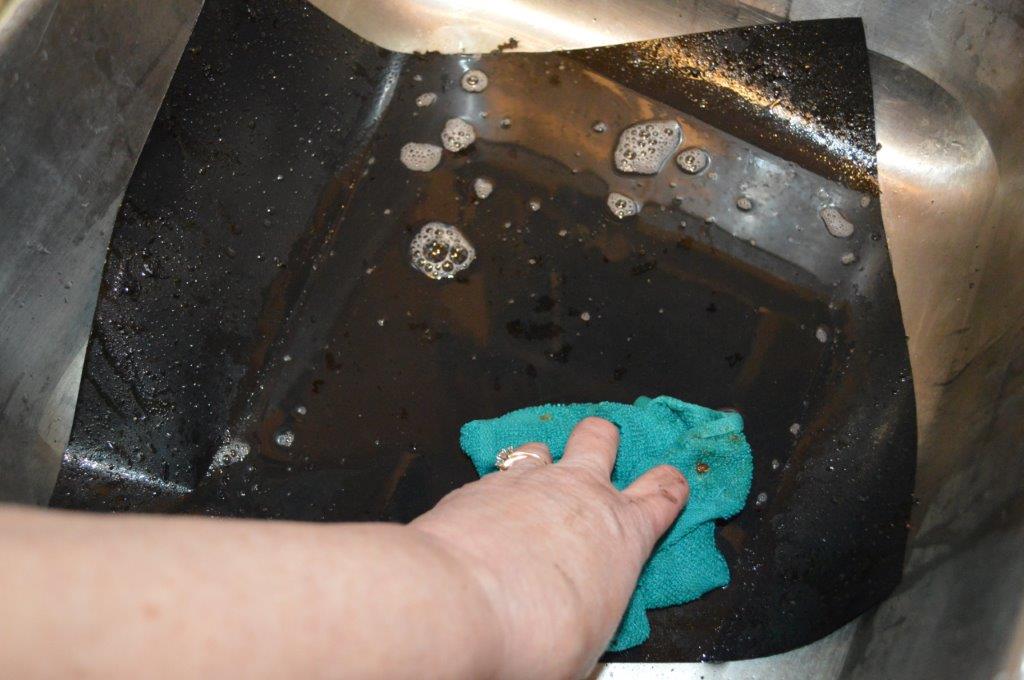 Gave it a rinse
And BAM! Clean as a whistle! I couldn't believe it.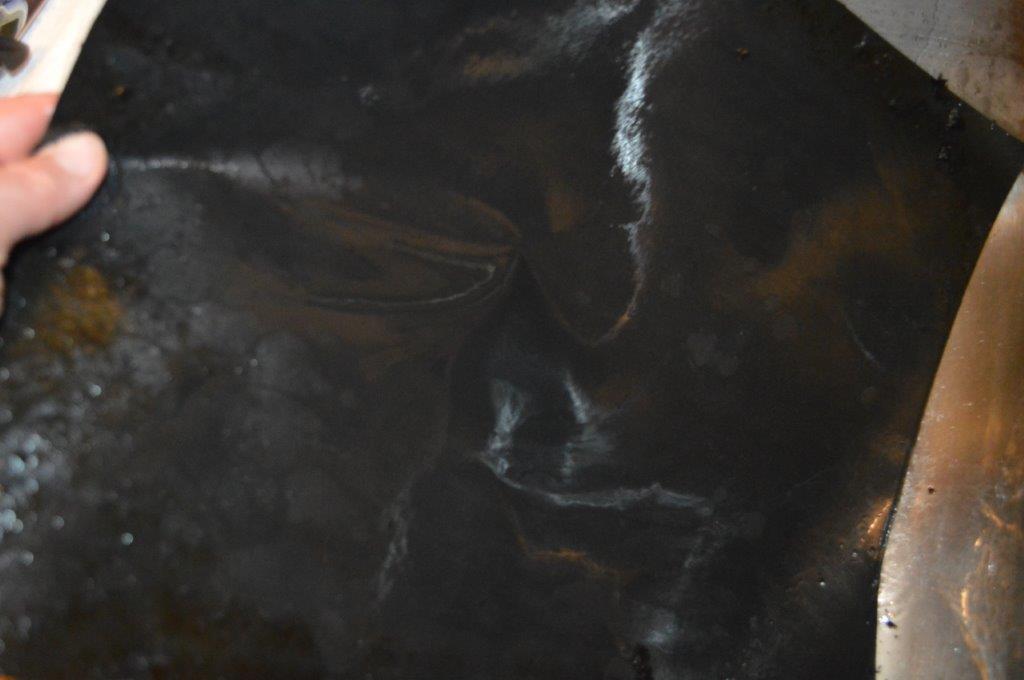 These Grilling BBQ Grill Mats are amazing!
You can put them in the dishwasher and of course they are reusable.
Ratings are AMAZING and it is FDA Approved and PFOA Fre

e
Here are a few more ideas of how to use these AMAZING mats I thought of:
Pizza

Grilled fruit

Pancakes

Fajitas

Anything, all you have to do is just control the heat of the charcoal
For this delectable meal, I put down bit of flavored olive oil infused with herbs on the mat along with the fish, and it was sssooo good; use caution so oil doesn't get by the flames.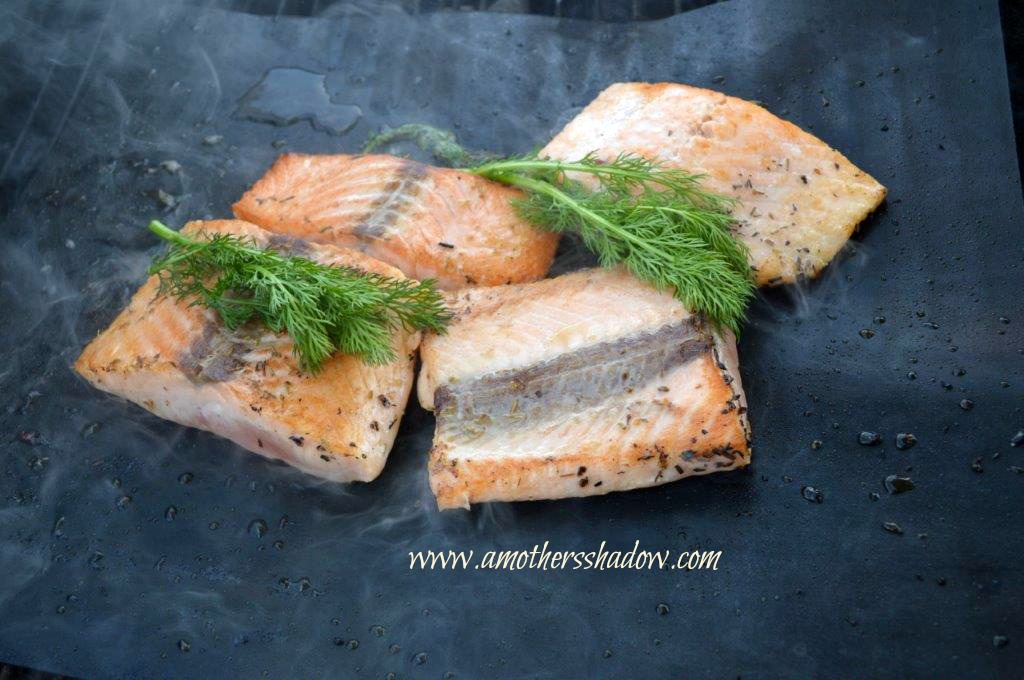 And DESSERT of course – just watch the heat, it has to be like the oven temperature remember, and use the lid to help cook these. They were a bit tricky:)
Carrie Groneman's recipe, copyright Carrie Groneman, A Mother's Shadow, 2016
Recognize a blessing and be a blessing today.